If Alaskans know how to do one thing well, when we see termination dust on the mountains, it's  RUN to our comfort foods!  The food truck business has grown substantially in our great state and therefore food trucks have gained monumental popularity. Dishing out delicious, Halibut sandwiches, Waffles, and BBQ (among anything else you can think of) at great prices to hungry Alaskans. We even have our local food truck frenzy at the Spenard Food Truck Carnival.

Often times most food trucks are owner/operated, which generally means any help you can get for menial tasks is a welcome luxury. The Propane Guys offer propane tank swaps, just for this purpose. To save your time, money and liability sending yourself or employees out for a re-up on Propane. We definitely don't mind making this trip for you and mostly likely will grab a bite to eat while we're out there!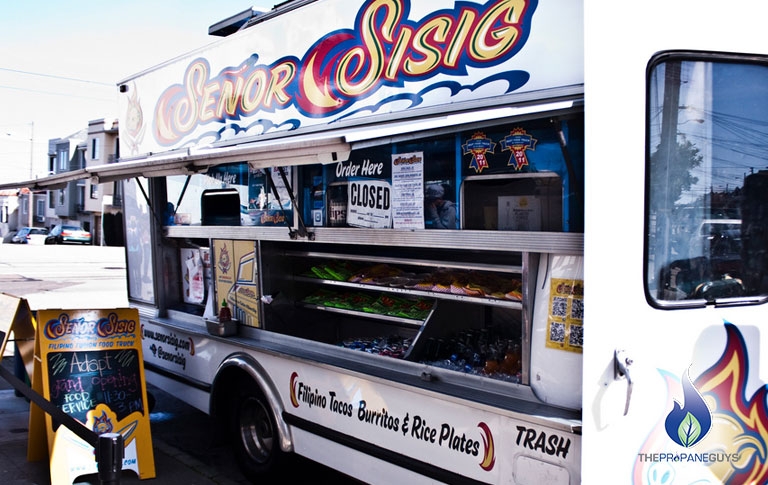 Your focus as the owner should be creating tasty meals for your customers, not lugging around propane tanks. But another consideration that's just as important is propane safety, both for you, your staff and your clientele.

In this article we'll take a quick look at whether propane is safe to be used in the confined space of a food truck. For more information about propane, visit our website and contact us to get fast, reliable food truck propane delivery in Anchorage, AK.
Using Propane in a Food Truck: Is It Safe?
The short answer is yes, propane is safe to be used in food trucks. As a matter of fact, it is a preferred fuel for many food truck owners because it is stable, safe, and affordable.
However, there are always safety concerns when working with fuel, and propane is no exception. Luckily, there are simple steps you can take in order to ensure the safety of your staff and customers when handling/working with propane.
First of all, make sure you're familiar with your propane tank and the markings on it. Be sure to get all your tanks re-certified and inform all your staff to never use a non-certified tank.
Next, make sure all your staff are familiar with the smell of propane. Any decent retailer will be able to provide you with scratch pads that help you and your employees recognize the smell of a propane leak.
Also be sure to keep any flammable liquids such as cleaning agents, oils, or petroleum, away from your cooking area and gas burner. The fumes from these substance can be ignited by the pilot burner and pose a serious safety risk.
Training Your Staff on Propane
All your staff members should also be familiar with the layout of your truck and know where the gas lines are located. Also make sure to regularly check all your connections and change them if necessary.
Make sure you and your staff watch this video by the Pipeline and Hazardous Materials Safety Administration for an in-depth rundown on propane safety for food truck owners.
For more information about commercial propane delivery, check out our blog. To get affordable residential or commercial propane delivery in Anchorage and Eagle River contact us today.
Earning Your Trust & Customer Loyalty
We care about the level of service we are providing our residential propane customers. We strive to make our delivery/order process as easy as possible. We will provide you with excellent and timely service and look forward to discussing any of your residential propane or commercial propane delivery needs. The Propane Guys pride themselves on being a transparent, Alaskan company, that you can trust to be there with the highest quality service possible. We welcome any open conversation about how we do business, what our service entails and the products we offer. Just Email Us!