(article source:
There are numerous statistics related to propane. There are probably too many to keep track of but the most relevant are provided here for informational purposes only. These statistics come from external sources as reported.
US Propane Fuel Statistics and Usage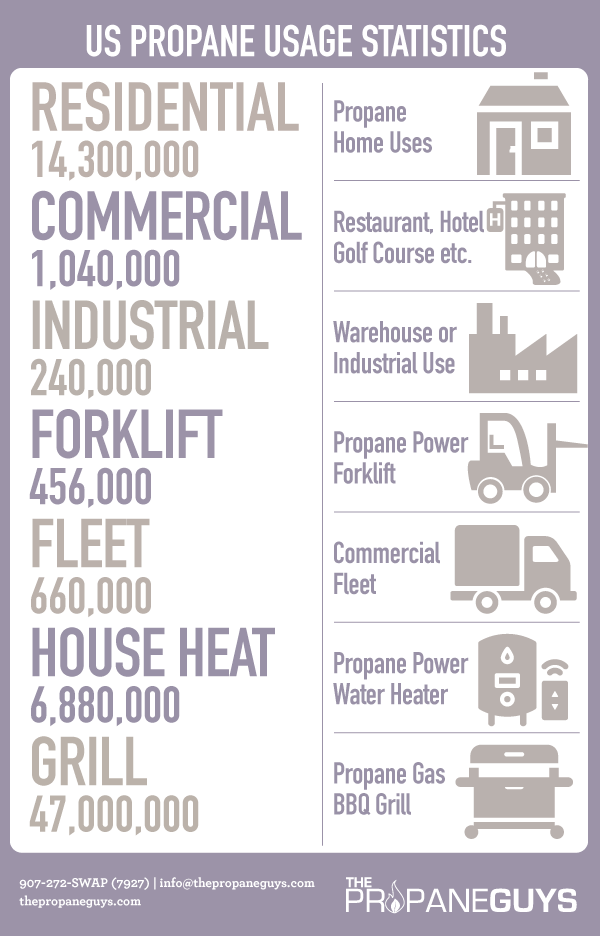 Propane Fire Statistics
One of the most common misconceptions about propane is that it causes and is responsible for the bulk of fires in the United States. Statistics presented by the National Fire Protection Association (NFPA) do not list propane as a leading cause of fires. In fact, propane is not even listed as a source of residential structure fires in the U.S. Some of the factors that are listed as major causes include cooking equipment, heating equipment, intentionally set fires, candles and smoking materials. The cooking and heating equipment listed could be supplied by propane and in some cases it probably was but the point is this; The National Fire Protection Association does not list propane as a leading cause of fires nor as a leading contributor in fires because propane is not as unsafe as it is perceived to be.
It's also important to note that the leading cause of residential propane related fires involve a a grill, hibachi or barbeque. If propane were truly as unsafe as the public often believes it to be, it would be listed as a severe hazard by the authority on fire safety, the NFPA.
Realistic Propane Safety Statistics
Accidents do occur with and around propane but what many will have consumers believe is that propane is an unsafe fuel. But in reality, LP Gas usage statistics combined with accident statistics tell a much different story that is more accurate than what skeptic would have you believe. The statistics provided below are based on information collected and provided by the NFPA between 2000 and 2004 listing LP Gas as the first material ignited in home structure fires. In other words, propane (LP Gas) was the fuel that "started" the fire. In 2001, 9.4 million homes used LP Gas. Numbers don't lie and neither do facts. Make your own decision.
LP Gas Home Structure Fires Statistics
 

Average Annual Home Structure Fires
Average Annual Civilian Fire Deaths
Average Annual Civilian Fire Injuries

1,390
23
193
Based on these numbers provided by the NFPA, let's calculate the real value in statements such as "propane is a very dangerous fuel" or "propane burns houses down all the time".
.000148 residential structures burned every time LP Gas was the first material ignited
.0000025 people died in every incident of LP Gas being the first material ignited
.000021 people were injured in every incident where LP Gas was the first material ignited
The numbers and statements above seem kind of silly because the occurances of propane fires, injuries and deaths were so very rare for the total number of residential structures using propane. Using these same statistics, look at propane safety from another perspective:
1 in 6,762 homes experienced a fire
1 in 48,704 people were injured
1 in 408,695 people were killed
Skeptics will tell you that propane is so terribly unsafe, that it frequently burns or kills people and blows houses up all the time but did you know that:
Around 100 people die annually as a result of being struck by lightning
About 7,000 people die annually resulting from prescription drug filling errors
90 to 100 people die each year from bee or wasp stings
Around 200 people die each year in floods
Earning Your Trust & Customer Loyalty
We care about the level of service we are providing our residential propane customers. We strive to make our delivery/order process as easy as possible. We will provide you with excellent and timely service and look forward to discussing any of your residential propane or commercial propane delivery needs. The Propane Guys pride themselves on being a transparent, Alaskan company, that you can trust to be there with the highest quality service possible. We welcome any open conversation about how we do business, what our service entails and the products we offer. Just Email Us!