Since we've saved you plenty of time by delivering and swapping your residential propane tanks for you, we've compiled a list of 8 things you could be doing with all of that spare time.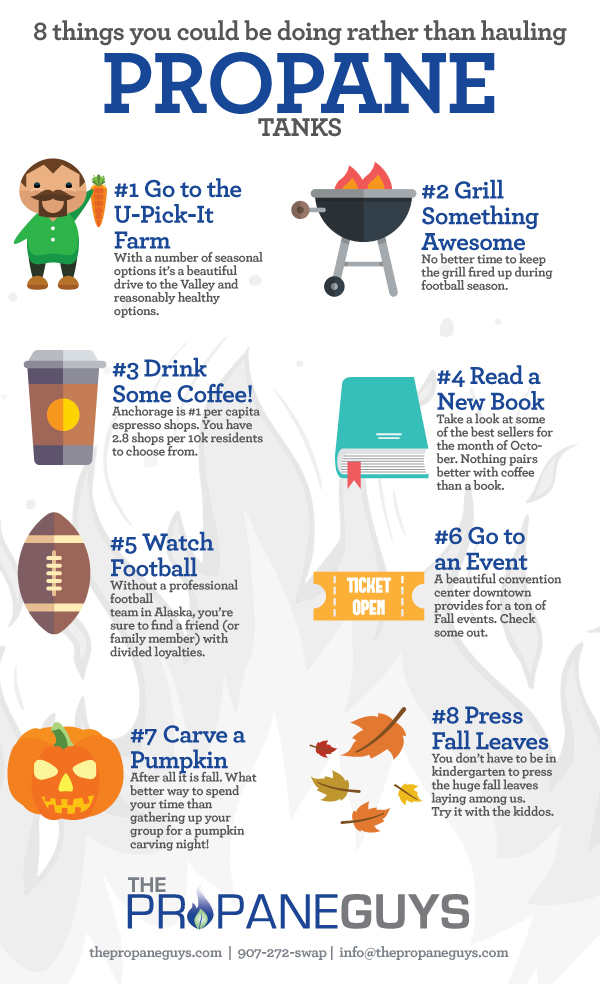 1. Go to the U-Pick-It Farm
With a number of seasonal options it's a beautiful drive to the Valley and reasonably healthy options.
2.Grill Something Awesome
No better time to keep the grill fired up during football season.
3. Drinking a cup of coffee
Anchorage is #1 per capita espresso shops. You have 2.8 shops per 10k residents to choose from.
4. Read a New Book
Take a look at some of the best sellers for the month of October. Nothing pairs better with coffee than a book.
5.Watch Football
Without a professional football team in Alaska, you're sure to find a friend (or family member) with divided loyalties.
6.Go to an Event
A beautiful convention center downtown provides for a ton of Fall events. Check some out.
7. Carve Your Pumpkin from the pumpkin patch
After all it is fall. What better way to spend your time than gathering up your group for a pumpkin carving night!
8.Collect colorful fall leaves
You don't have to be in kindergarten to press the huge fall leaves laying among us. Try it with the kiddos.

Ready to save even more time? Put in those orders by calling 907-272-SWAP or online